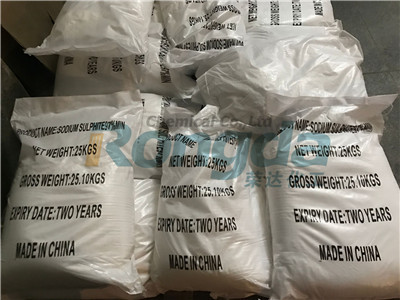 For more information, please click ' Sodium sulfite anhydrous'.
Hubei Yichang municipal government deputymayor Wang Yinghua in June 17 to 19 held in Yichang on the first session of theInternational Symposium on phosphorus resources development said that Yichangwill support the development of phosphorus chemical industry, phosphoruschemical industry efforts to build circular economy industrial chain.
According to Wang Yinghua introduction,Yichang is one of China's eight phosphate rock base, reserves accounted forabout 15% of the country. Yichang invests largely the development of phosphoruschemical industry, and actively undertake the introduction of phosphoruschemical project in Yichang, and around the phosphorus chemical industry in theintroduction of a number of downstream type, service type, the chain extensionproject, emerged in Xingfa group as the representative of a large number offine phosphorus chemical enterprises. By the end of last year, the city'sphosphorus chemical industry output value had reached to 190 billion 630million yuan, has become the world's influential phosphorus fine chemical base.
Wang Yinghua told reporters from Chinesechemical, Yichang city is constructing of phosphorus chemical industry chain ofcircular economy, this will further integrate phosphate resources, promote theconstruction of green, ecological, harmonious. Scientifically determine theamount of phosphate rock phosphate mining, improve the level of comprehensiveutilization of resources, extension of fine phosphorus chemical industry chain,enhance the technological innovation capability of enterprises, make efforts tothe development of fine and high-endproduct structure.
College of materials and chemicalengineering, China Three Gorges University professor Li Dejiang suggested thatYichang city should control the development of phosphatic compound fertilizer,the elimination of high energy consumption, high pollution. Acceleration of thetransformation of phosphate and compound fertilizer industry; focus on thedevelopment of high purity, high value-added fine phosphorus chemical products;the positive development of phosphorus resources, energy and waste utilizationof circular economy, implementation of cleaner production; phosphorus chemicalenterprises set into four major industrial parks, completely shutting down 40phosphate enterprises, shutting down 10 phosphorus chemical productionenterprises. By 2020, the city's ore mining total control of under 17 milliontons, compared to 2015 the amount of phosphate mining cuts of more than 50%decline; phosphate fertilizer proportion of phosphorus chemical industry outputgradually from 70% to 35%, the proportion of high-end fine phosphorus chemicalindustry increased from 15% to 50%.